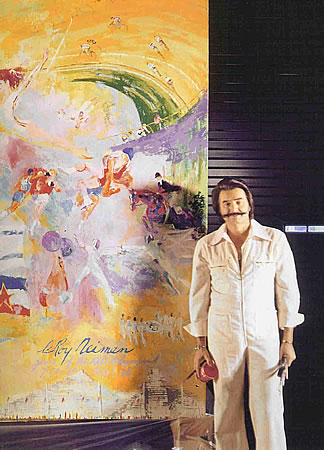 The first time I noticed LeRoy Neiman was during the televised breaks during the 1976 Olympics. He was captured on film dressed in a white painter's jumpsuit. He had long shaggy hair, and an extremely large mustache. I was always attracted to art and painting, oil painting was my favorite. So I paid attention to this flamboyant character creating an image on canvas before my eyes. When completed, it was a mural of the Olympics. It seemed an effortless action by this seemingly "self assured" gentleman. His ability and ease is what gave him the opening to become the official artist for five Olympiads.
Over the span of his career, LeRoy Neiman paid his dues. He was constantly creative, and certainly put his entire being into becoming "The Artist". His signature cigar and unique mustache placed him into a lifetime role which he both created and directed.  He now receives continuous ovations for his achievements.
When you think of LeRoy Neiman, many things can come to mind.  He had a humble beginning in St. Paul, Minnesota. When his  father left the family, his "spirited" mother remarried twice, and LeRoy eventually took the surname of his stepfather. His childhood probably added a lot of the spunk he has shown in both his works and in his lifestyle. He started drawing in school, creating posters and drawings, and even competed in art competitions.
LeRoy loved to encourage youth in their paths to creativity. I have observed him being very kind to a young artist once, offering him tips to add to his art education and techniques. The youth was so excited that LeRoy had taken time to comment on his work.
Neiman enlisted in the Army during World War II, where he served his time as a cook for the troops. While enlisted, he helped create murals and drawings. Perhaps his experience as a cook increased his repertoire of subject matter. He has done many works that feature people eating, chefs preparing food, restaurants, bars, and cafes.  Many of the originals he has drawn on actual menus of the restaurant he visited.
It seems to me that for most of his career, LeRoy enjoyed being a part of an experience. He was entranced with people enjoying the many aspects of life such as sports, gambling, dining. Neiman truly loved the female figure. When he became associated with Hugh Hefner and Playboy in the early 50's, he had an unlimited amount of subjects to paint, and he did so often. He took many of the playboy covers during the 60's and painted the cover in oil. These paintings often hung in different Playboy Clubs, and the Playboy mansion. He also created his now infamous "femlins," which were cartoon-like, extremely voluptuous figures that highlighted the playful and sexy side of female allure. They were always captured appealing to a man's fantasy. These femlins have become an endearing image that many love to collect.
LeRoy also enjoyed depicting the vices that are often male-dominated. He loved the exchange between players in the poker game. He said he always illustrated one character he called "The Skull". The skull is the player that has been gambling for days, has mortgaged his home, and given up all things held dear. He painted him without feature to depict the idea that he is dead to all things but the game. He loved Las Vegas. He was there so often to view boxing matches. He has been found in the ring after a match, and usually sat ringside. Boxers loved him, and he had a large personal collection of boxers he painted. During the 1972 Ali-Frazier match, Neiman drew sketches of every round. This ended up being a very controversial match where many felt Ali was robbed. There was almost a melee after the round. The next morning, television had him bring his sketches to illustrate each round. This match had been blacked out, so there was no usable camera footage. Afterward, he took these sketches and painted the famous large oil showing each round.
Horseracing was always favorite subject matter for LeRoy. He attended many of the great races, and often had a personal friendship with many of the owners and jockeys. Neiman painted horses with much of the fire and emotion that he embued with many of his female subjects: long legs, wild eyes; you can see it in his depictions. LeRoy was often involved with the pre-race ceremony, and often had owners commission a work, which is partly a historical record.
Some of the biographies of his work and person mention the artists that have influenced him in style, color, light and perspective. It is quite obvious that he had the same ability as the other greats. In addition, "life as art" was a big influence as with some of his greatest artistic influences. I know from reading the life biography of Picasso; I can see what I feel are similar attitudes toward life also seen in Neiman. Growing up on the streets also formed some of his lifelong approaches to art. He had perseverance, personality, and his execution of color, brushstroke, and the ability to capture the essence of his subject on canvas. He used his brush to detail the saunter of a football player exiting the football field after a touchdown; the blood flying after a crushing punch by a boxer; the knowing looks from the older patron; and the seemingly innocent approach by the cigarette girl. I could go on and on… and yet, LeRoy was also mellowed by the family experience. He often commented how great it is for people to be happily married for a long time. He spoke fondly and with respect for my large family and was always interested in how they were progressing.
Neiman's career spanned many successful decades. He had the power to walk into a room and create electricity. People loved talking with LeRoy, and LeRoy loved conversation with others. LeRoy was ageless.